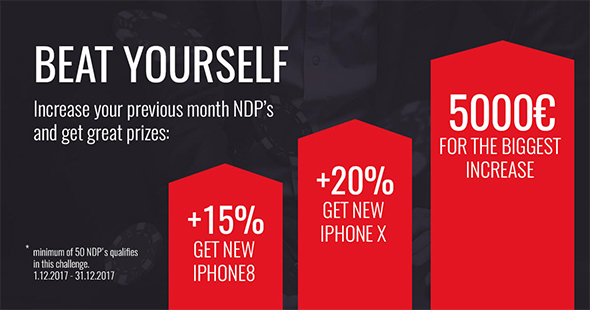 December is like a finish line.
Same as in sports, when we see it, we tend to pull ourselves together and strive for the best result even harder.
 We strongly believe that pushing the limits and breaking the boundaries are keys to success.
That is why we want you to challenge yourself in the finish line of this year.
Conquer yourself and get fairly rewarded. 

Increase the November number of New Depositing Players for at least 15% and get a brand new iPhone8. Increase the number of at least 20% and get brand new iPhone X.
 The one who will show the biggest increase of NDP's will get 5000 Eur as an extra to monthly affiliate commission.
Nothing grows in the comfort zone so challenge yourself, make the best out of this month and congratulate yourself on the great work that will be done.